Reduce Your No-Shows... Make More Money!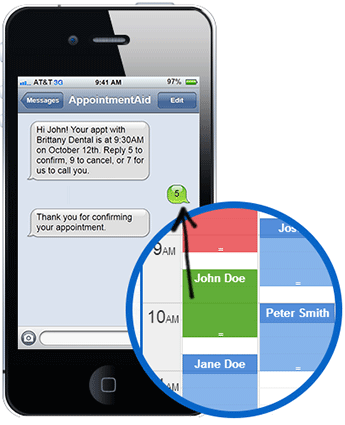 How much money are you losing monthly due to no-shows? Appointment based businesses often have no show rates of up to 15-20% and sometimes higher. If there was a way to turn even half of those no shows into paying customers, would you do it? Of course you would. By sending appointment reminders to your clients you can drastically reduce your no show rate, and with Appointment Aid you can automate the entire process.
You can effortlessly schedule phone, SMS, or email reminders to go out the day before your client's appointment. Your client can then respond to confirm or cancel their appointment. If your client confirms, great! You know they're coming. If your client cancels, now you have 24 hours to fill their appointment slot so you can still make money. Appointment Aid can easily pay for itself in saved appointments.
Start rescuing appointments today! Try Appointment Aid Free for 30 days. You can sign up in under a minute.