Appointment Reminders For Dentists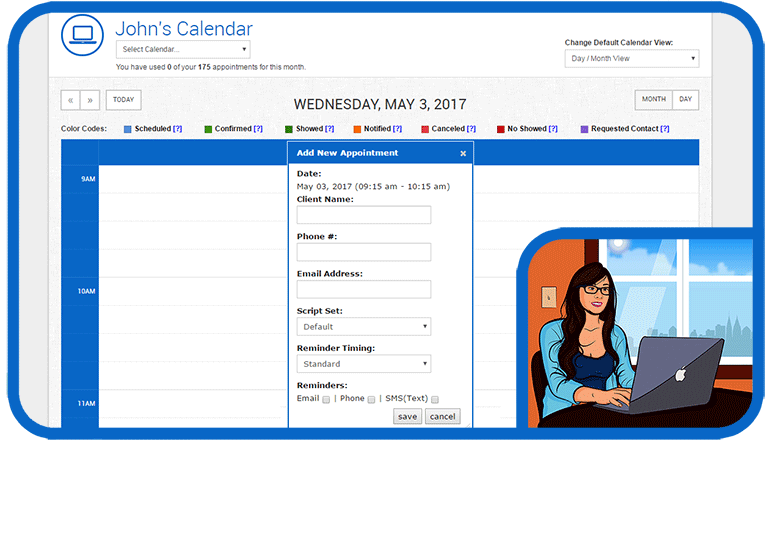 Schedule appointments in Appointment Aid.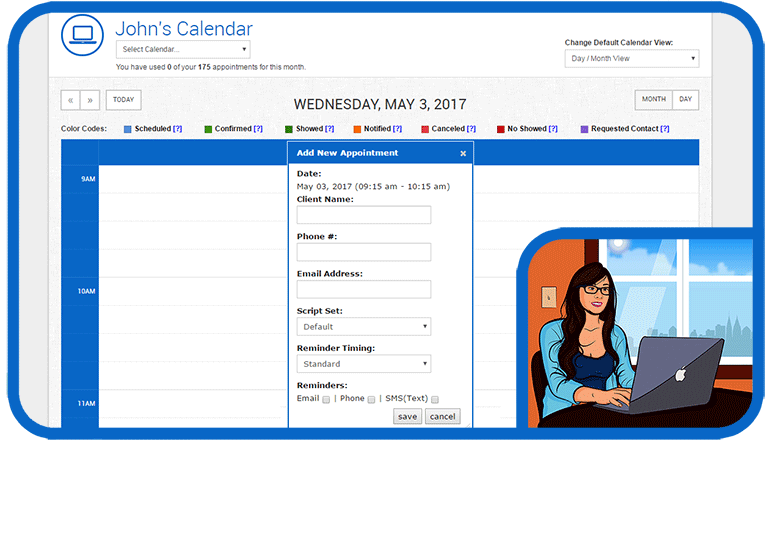 Schedule appointments in Appointment Aid.
2. Client Receives Reminders
Phone Call, Text Message, or Email Reminders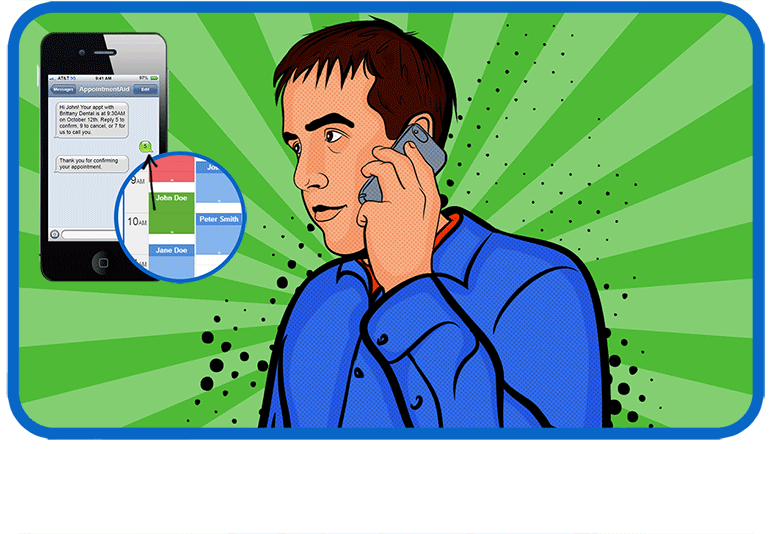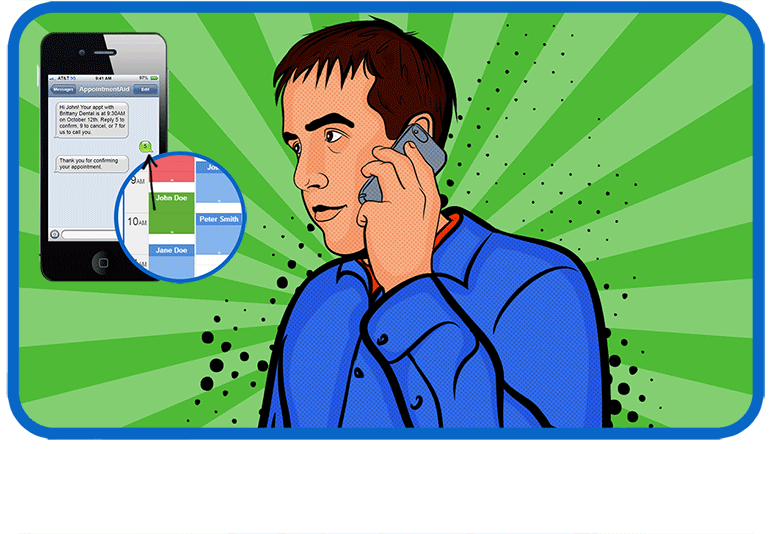 2. Client Receives Reminders
Phone Call, Text Message, or Email Reminders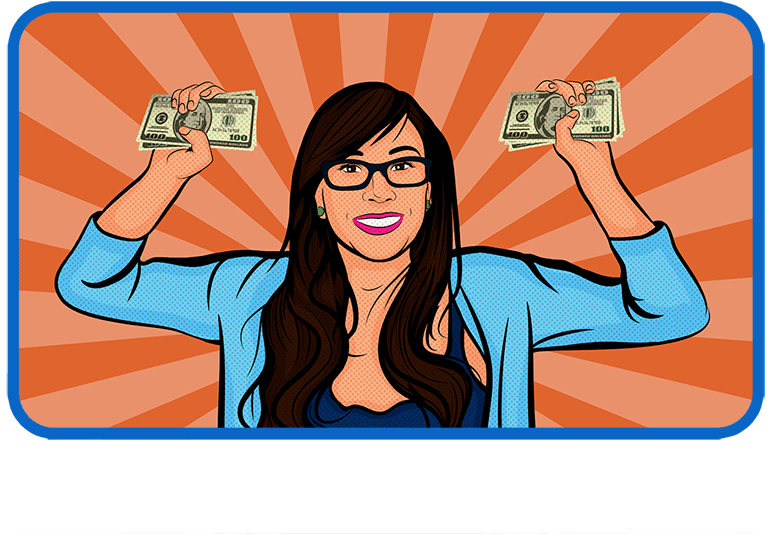 3. Your Clients Arrive On Time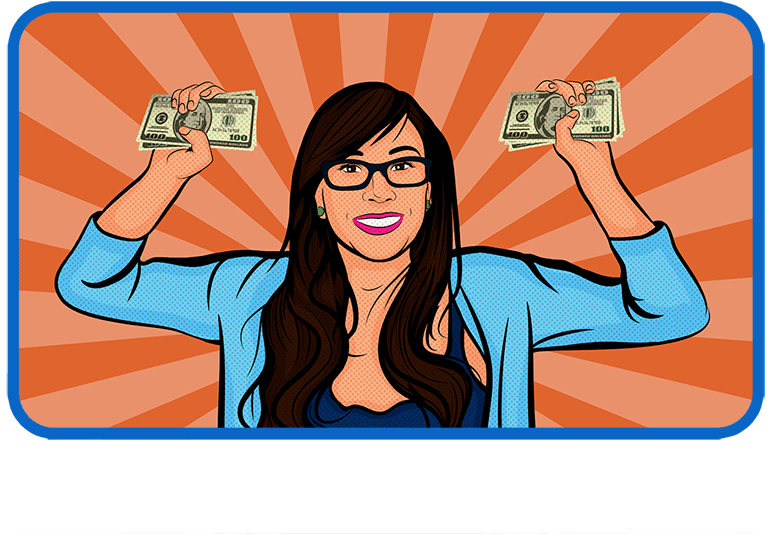 3. Your Clients Arrive On Time
If you are a dentist, you probably already know that you are selling your time. That's what you went to dental school for. That's what people seek you out for. They want your time. They want a consultation with you, so you can see what kind of dental work they need. In many cases, they need reassuring word. Also, when they have your time, you can provide a specialized dental work that will make them feel better or make them look better. It all boils down to your time.
Whether you are wet behind the ears new dentist, or you are a veteran that knows how things work, you should already have a clear understanding of how your time impacts the value of your practice. The big difference between a dental practice that provides very comfortable living for a dentist and one that pays its expenses really can boil down to one thing, and one thing alone: time management. That's right. It all boils down to how you manage your time.
As I've mentioned earlier, you are selling your time. Your time is your income. The amount of time you sell determines how much income your dental practice will generate. It really doesn't get any simpler than that. This is why it is quite disturbing and sad to notice that many dentists are actually leaving a lot of money on the table by using a very inefficient or ineffectual appointment setting system. In many cases, they don't even know that they are losing money. In many cases, they don't even know that they are wasting a lot of time.
If you are serious about taking your dental practice to a higher level of income and profitability, you really need to get serious about time management. One of the best ways that you can do this is to use appointment reminders. An appointment confirmation service is nothing fancy. There's nothing magical about it. There's no specialized rocket technology with an appointment reminder service that will turbo charge your profits. Instead, it boosts your profits in a very simple way. It sends SMS appointment reminders to your patients. It lets people know that when they set up their appointment and when to come in. They may seem pretty basic and straightforward, but you would be surprised as to how often people forget that they have set up a dental appointment.
In many cases, they are only out a few dollars if they missed the appointment. In many cases, people feel that they can blow the appointment because there are only out maybe upwards of $50, so it's no big deal to them. However, it is a big deal to you because you're probably making a lot more money than that $50 that is being charged to the patient. You really need to take full control over your scheduling process for you to make the most out of your time. Your time is precious. Your time is valuable. You need to realize this by putting into place the right confirmation service.
SMS appointment reminders for dentists
One of the most helpful types of reminder services is SMS reminders for dentists. This type of appointment reminder service sends a text message to your patients ahead of time. This gives your patient two options: either to confirm or to let you know ahead of time that he or she cannot make the appointment. There's something in it for the patient. The patient won't get a cancellation fee. However, the big winner here is your dental practice. Why? You can plug in that freed up appointment slot with another appointment. Instead of losing money on that appointment slot, you can assign another patient to that slot.
Not only do you save money, but it can actually make you more money down the road. Why? The patient that you did a "favor" for will not forget it. The patient will feel appreciated. He or she will feel grateful. As a result, you increase the level of loyalty you have with that patient. Moreover, that patient might refer friends and family to your dental practice. Everybody wins with the proper reminder service for dentists. You only need to look into the right kind of service, so you can make more money with your time. Make no mistake about it. Your time is your most precious asset. Manage it wisely.
Start your free trial