Appointment Reminders For Orthodontists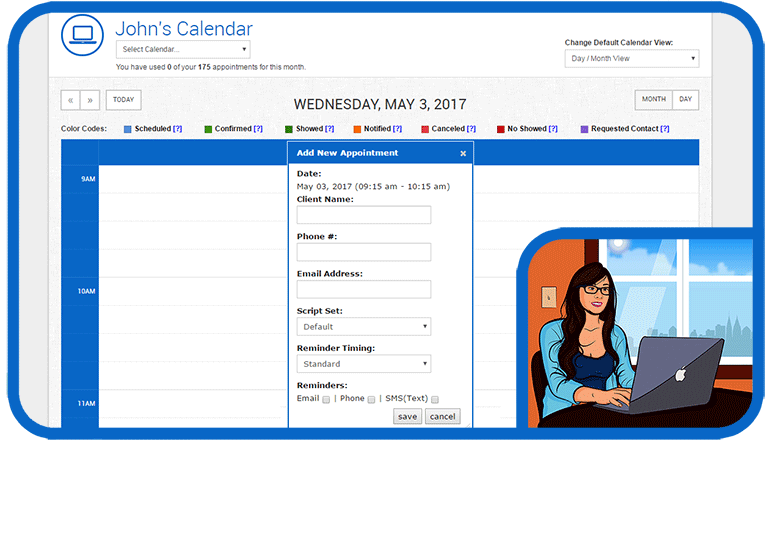 Schedule appointments in Appointment Aid.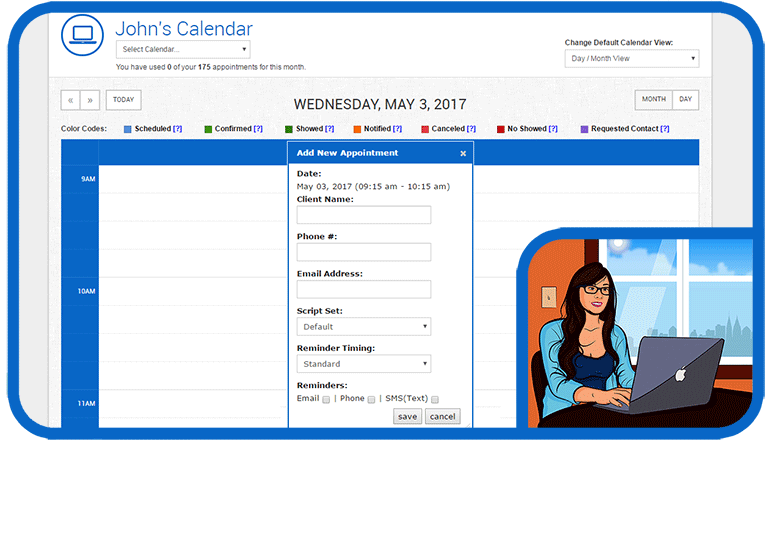 Schedule appointments in Appointment Aid.
2. Client Receives Reminders
Phone Call, Text Message, or Email Reminders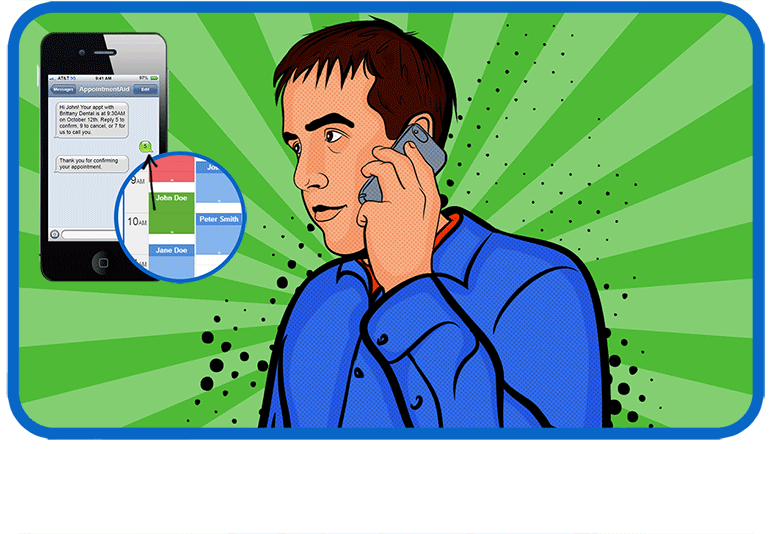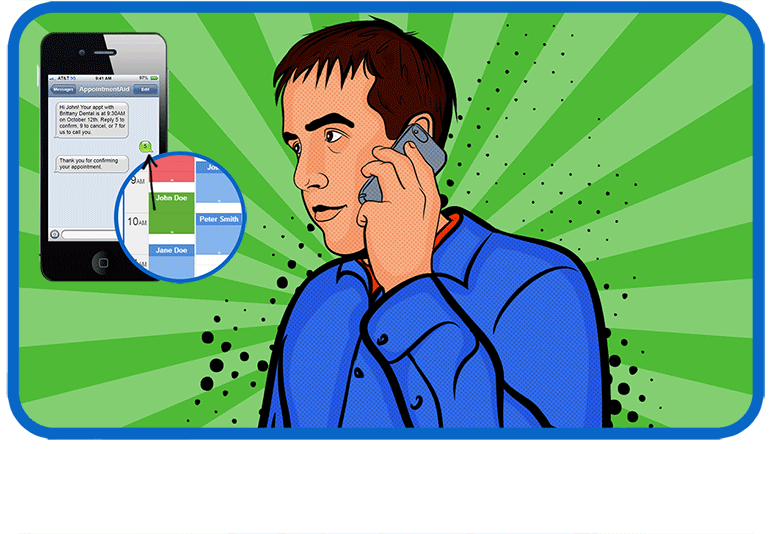 2. Client Receives Reminders
Phone Call, Text Message, or Email Reminders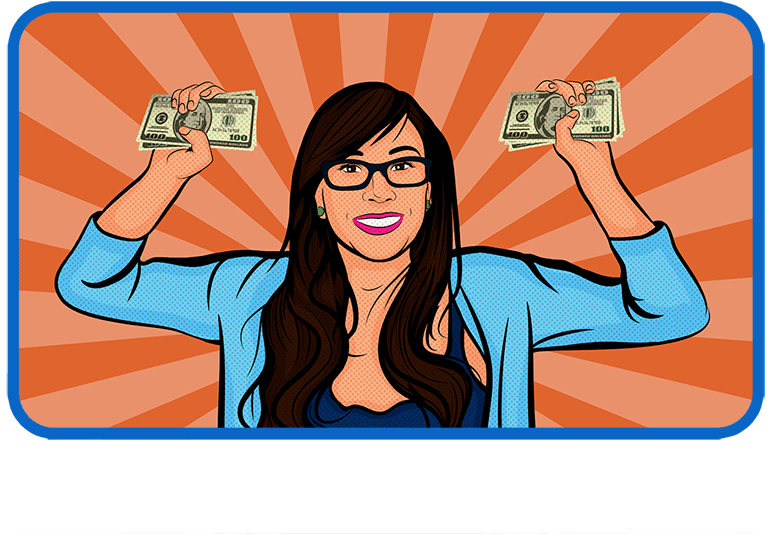 3. Your Clients Arrive On Time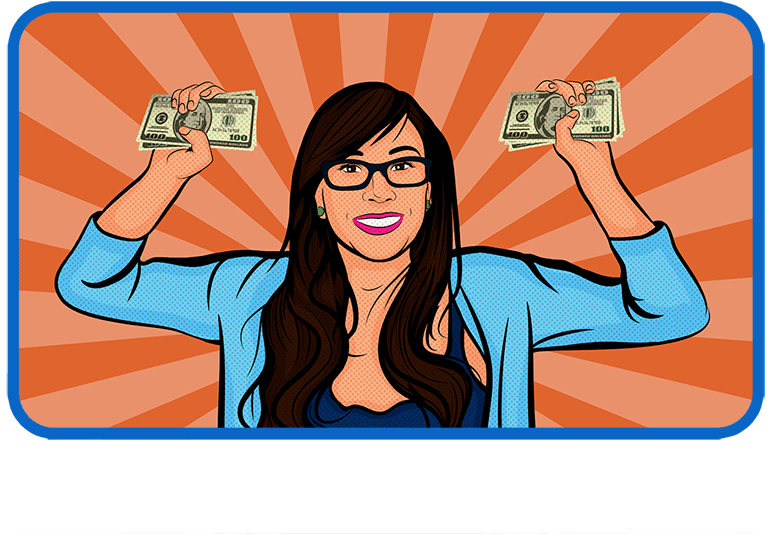 3. Your Clients Arrive On Time
If you are an orthodontist, you already know that it can be quite a tough business to be in. After all, as the economy continues to be fairly soft in the United States, more and more consumers are considering orthodontic work as a luxury. During healthier economic times, most people wouldn't think twice about getting braces for their child. However, the harsh economic reality that we are facing is that there are a lot of orthodontists all trying to get the business of much smaller population of orthodontics customers. It can be quite tough out there. It can be a competitive situation out there. You can give yourself an advantage just by doing one thing. It's actually a pretty simple change to the way you are handling your orthodontics appointments. What change is that? You need to use appointment reminders.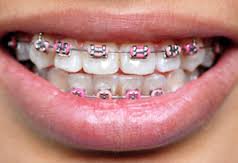 This might seem like a very small change. It might even seem almost cosmetic, but the reality is that this small tweak can actually take your business to a much higher level of profitability that you might think. Why? If you are offering orthodontics services, you are basically selling your time. That's the bottom line. That's what you went to dental school for, that's what you got specialized training in, and that's the kind of service that few other people can provide. That is why your customers come to you. They are going to you for your time. The problem is, if you have an appointment setting system that is faulty, inefficient, or not properly configured, you are wasting your time. Instead of making money of your time, you are leaving a lot of money on the table.
When you invest in a proper appointment reminder service, you insure that the people who set up orthodontics consulting or screening with you do show up. The more these people that you can get to show up on time, the more money you can make. Why? The initial consultation is actually what opens the door for you to make money from your patients. The more patients show up on time, the higher the likelihood that they will actually get braces, and that you will make a profit. It really is that simple. I don't mean to reduce it to a simple black and white situation. I don't mean to reduce the whole patient-dentist relationship into a simple issue of profit or loss. However, during these tough competitive times, we need to cut straight to the chase. We need to get down to the bottom line, and focus on what is important. Setting up the right appointment reminders can help ensure that more of these initial consultations happen so you can make more money. Moreover, SMS appointment reminders for orthodontists also help you close other patients. Why?
When one patient cancels, you can then move up another patient to that slot ahead of time. Thanks to the appointment reminder service. That person will then feel grateful and is more likely to get braces from you. Instead of you losing money, you actually increase the chances of you making money by simply adding an appointment reminder service to your current appointment setting system. Make no mistake about it. Orthodontist appointment reminders can benefit your business in a wide variety of ways. More people will show up on time, so you will waste less time. Also, you build good will, and you will increase loyalty with your existing and potential patient base.
Start your free trial